"Bella,"
the digital archetype of
"sitting down," "giving paws,"
and "getting treats."
To commemorate the acclaimed success of those interactions, digital mediums are utilized to increase their reach. With 306M of the 471M companion dogs worldwide digitally exposed twice a week,16 studies suggest that dogs are a driving force behind digital content on social media.


But, where does "Bella" fit into all of this?
Honestly, nothing stands out.



"Bella" is merely another canine in the digital world, performing similar tricks on media platforms such as YouTube, and together with its list of commands, "sit down,""give paw,""good girl," it becomes a digital archetype. Despite this, while dog car drivers17 or hypnosis dogs18 occupy the attention of those seeking the most unusual dog performances, looking at videos such as "My Dog Doing Sit and Paw"Fig.2 and "Molly Dog- Sit and Paw"Fig.3 in which there is just a dog performing what could be considered the most basic tricks, seems quite banal.


16
Studies on animal digital exposure have concluded that about 65% of pet owners post about their companion animals on social media an average of two times per week. Considering 65% of the 471M worldwide (only) companion dogs, 306M dogs are exposed twice a week to digital channels.

Nashville, Tenn

"

New Survey Shows Pets Are Social Media's Top Dogs (and Cats

)

." n.d. Better Cities for Pets. Accessed February 2, 2023
17
Porter, Ginny, and Monte are all rescue dogs in the care of the Auckland Society for the Prevention of Cruelty to Animals. To prove that rescue dogs are just as

smart and obedient

as nurtured dogs, a trainer found a way to teach these mutts how to operate a specially outfitted Mini Countryman.

TheDrivingDogs.

"Meet Porter. the World's First Driving Dog."


YouTube. YouTube, Accessed November 22, 2023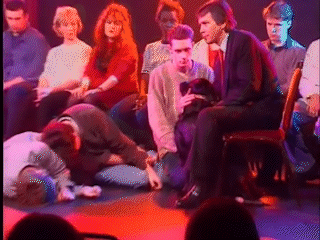 18
Oscar is a black labrador performing as "the Hypnodog". He was trained by professional hypnotist Hugh Lennon in 1995 to pursue stage hypnosis over humans.

Wikipedia,

"Hypnodog."

Wikimedia Foundation,
Accessed September 29, 2022
Fig. 2
@foreveralone7554 "My Dog Doing Sit and Paw."
n.d. Youtube video. Accessed January 6, 2023.

Fig. 3
@cestrianvlogger. "Molly Dog: Sit and Paw."
n.d. Youtube video. Accessed January 6, 2023
Do these videos belong to the episodes of dog-training shows that gained widespread popularity among dog communities in the 80s?19
Or do they fulfill the repertoire of David Letterman's pet parade?20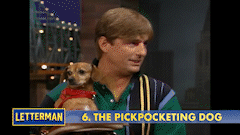 19
Such as the programme "Training Dogs the Woodhouse Way" created by Barbara Woodhouse in 1980 and aired on television by the BBC in 1980. It was taped in 10 episodes at Woodhouse's home in Hertfordshire, England. In the show she often used two commands: "walkies" and "sit".

De Kam, Margot.

Barbara Woodhouse met Fifi, 1980"


YouTube, 2019. Accessed December 25, 2022
20
David Letterman's Stupid Pet Tricks was an iconic segment that Letterman did for three decades on NBC's Late Night and CBS' Late Show in which a parade of pets performed the most ridiculous, impressive, and extraordinary tricks on a studio stage before a live audience.

Letterman, TheLateShow.

"Top Ten Stupid Pet Tricks | Letterman.

"
YouTube, Accessed December 26, 2022
Instead, those YouTube videos serve as instruments to showcase the various roles that the character "Bella"can assume, offering a broad comprehension of the diverse connotations that such a familiar set of commands can convey.

The query, therefore, is:
What insights can be gleaned from a seemingly straightforward
sequence of "sit", "give paw", "good girl" and "a treat"?
Prior to examining how Mylo, Dakota, Strider, and Bella —the key figures of these videos— may shed light on the question through their actions of "sitting down" and "giving a paw," let's first analyze the process of their selection as the primary roles of the following narratives:

The videos have been selected while researching on YouTube: "Dog sit down and give paw"
The selection process did not follow any specific structure, yet the variety and diversity of choices were prioritized to bring different scenarios and perspectives over the reiterated command.
The actions in each video were carefully monitored to track the particularity of each case and estimate the impact of different contexts and subjects involved. The outcomes of this analysis have been visually summarized at the beginning of each video case. Fig. 5,10,15,20